Jim Thompson House, main attraction of this trip, was not so far from Holiday Inn I stayed, so we decided to ride Samlow. 
Samlow, a convenient means of transportation in Bangkok at that time, was similar to a three-wheeled bicycle, and it was attractive to be able to go to the destination while gazing at the surrounding streets.
By the way, Jim Thompson House, who was the king of Thai Silk and was one of the world's leading collectors of ancient artworks in Southeast Asia, is a magnificent building that has been remodeled from an old Thai traditional style house using teak wood on a vast site. It was an art work. 
Having stepped into the mansion, we were able to admire Oriental silk products and valuable Southeast Asian art works while feeling the refreshing breeze passing from the green grove to the teak building.
And I bought two Ascot tie of Thai silk with a unique color and pattern that are largely different from the Western brand that I already own, and also cushion covers for two colleagues who introduced the Thai silk easy order store I bought. 
Among business people in Tokyo at the time, Ascot tie such as Burberry and Aquascutum were in vogue.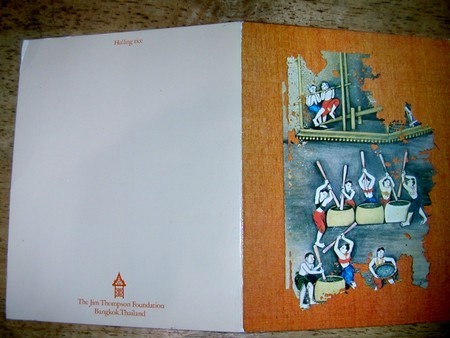 このバンコク旅行の主要な目的地のジム・トンプソン邸へは、宿泊ホテルのホリデイ・インからさほど離れていなかったので、私たちはサムローに乗ってゆくことにした。 
当時のバンコクでの手軽な交通手段のサムローは三輪自転車に似ていて、ゆったりと周囲の町並みを眺めながら目的地に向かえるのが魅力だった。
さて、タイシルク王で、世界屈指の東南アジアの古代美術品の収集家であったジム・トンプソン邸は、広大な敷地にチーク材を用いた古いタイの伝統様式の家屋を組み直した建物自体が立派な美術品だった。
屋敷に足を踏み入れた私達は、緑の木立からチーク材の建物を通り抜けるさわやかな風を感じながら、オリエンタルカラーのシルク製品や、貴重な東南アジアの古代美術品をじっくりと鑑賞することができた。
そして私は既に所有している欧米系ブランドとは大きく異なる独特な色と柄のタイシルクのAscot tieを二本買い、さらにタイシルクのイージーオーダー店を紹介してくれた二人の同僚用にクッションカバーを買った。 
当時の東京のビジネスパーソンの間では、BurberryやAquascutumなどのAscot tieが流行していたのだ。