London's Tate Modern (https://www.tate.org.uk/visit/tate-modern) is a national modern and contemporary museum with views of the financial district City and St. Paul's Cathedral across the Thames River. So, this is a major remodeling of the "Bankside Power Station" that was closed in 1981, leaving the 99-meter large chimney that was the symbol of the power plant and rebuilding a huge turbine hall into a large entrance hall. It opened on May 12, 2000 by skillfully reusing the equipment of the power plant.
The reason we went to Tate Modern was because the managing director of the company I was working for at the time was guided by the representative office manager during a business trip to London and liked it and enthusiastically recommended it to me.
And, 2001, which we visited, was just one year after the opening, and although the special exhibition was charged, the public exhibition and the permanent exhibition that exhibited many works such as paintings, sculptures, and installations were free of charge.
I was deeply grateful for the generosity of the British Empire, which opened such a masterpiece exhibition to overseas travelers free of charge while visiting the vast exhibition hall of Tate Modern.
I was also impressed by the generosity of the management, who opened an affordable cafe in a large area with a spectacular view of the Thames on the ground floor. Thanks to that, my friend and I were able to relax with milk tea and scones while enjoying the luxurious view without worrying about the budget.
At the cafe, young staff wearing dark brown salon aprons worked vigorously. 
As I learned later, this cafe preferentially hires art college students to support them who need expensive painting materials in addition to tuition fees.
In this way, I thought Tate Modern attracted art lovers from all over the world, not just the British, like a magnet.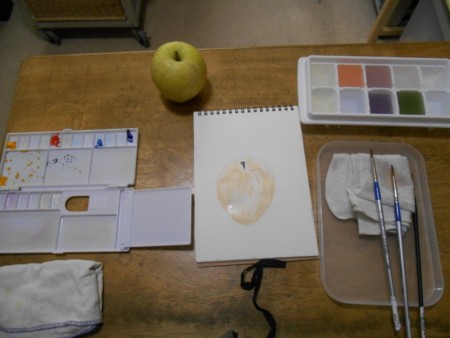 ロンドンのテート・モダン(https://www.tate.org.uk/visit/tate-modern)は、テムズ川を挟んで金融街シティとセントポール大聖堂を臨む眺望に恵まれた国立の近現代美術館で、これは1981年に閉鎖された「バンクサイド発電所」を大改造したもので、発電所のシンボルであった99メートルの大煙突を残し、巨大なタービン・ホールを大エントランスホールに造り替えるなど、発電所の設備を巧みに再活用して2000年5月12日にオープンした。
何故、私達がTate Modernに足を運んだか、その理由は、私が当時勤務していた会社の担当常務がLondon出張時に駐在員事務所長から案内されて気に入り、私に熱心に推薦したからだ。
そして、私達が訪問した2001年は、丁度オープン1年後に当たり、企画展は有料であったが、公募展示と、絵画・彫刻・インスタレーション等の多数の作品を展示した常設展は無料だった。
テート・モダンの広大な展示会場を廻りながら、これだけの名作品展を海外旅行者にも無料で開放する、大英帝国の気前の良さに私は深く感謝した。
さらに、1階のテムズ河に面した素晴らしい眺望が望める広い場所に手頃な価格のカフェを開設した経営側の気前よさにも感心した。お陰で友人と私は予算の心配をする事も無く、贅沢な眺望を楽しみながらミルクティーとスコーンで寛ぐ事が出来た。
そのカフェでは、濃い茶色のサロンエプロンを身に着けた若いスタッフが活き活きと働いていた。 
後で知ったのだが、このカフェでは美術大学生を優先的に採用して、授業料の他に高額な画材等を必要とする彼らの支援をしているとか。
このようにして、Tate Modernは英国民のみならず世界から美術愛好家を磁石のように惹きつけていると私は思った。