One of the headaches I had on my trip around Portugal was to safely bring back the heavy and fragile cabin baggage such as vase, picture plate, and clay pot I bought at my destination.
But it was worth the effort.
I could decorate the vase with a peony flower given to me by my friend for my 70th birthday, the brilliant picture plate relieves my fatigue, and the clay pot devised me a menu. It gave me some fun.
Vase
Picture plate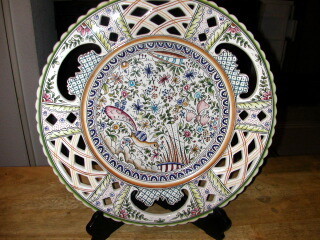 Scenery around the shop where I bought a vase and a picture plate
 clay pot
今回のポルトガル周遊旅行での頭痛の種は、旅先で買った花瓶、絵皿、土鍋等の重くて壊れやすい機内荷物を無事に持ち帰ることだった。
しかし、苦労して持ち帰っただけの価値はあった。
花瓶は私の70歳の誕生祝いに友人から贈られた牡丹の花を飾ることが出来たし、華麗な絵皿は私の疲れを癒やしてくれ、そして土鍋は私にメニューを工夫する楽しみを与えてくれた。